About
Scope Contemporary Research Topics is a family of open access journals publishing applied research themes in a broad range of topics including learning and teaching, art and design, Māori knowledge and health and wellbeing. The series consists of five core standalone publications each with their own editorial board and editorial team. Four are published annually and one every two years. Additional special issues are published annually that focus on particular research themes. Each Scope title has its own editorial team and editorial board who operate under the guidance of a series editor, Professor Leoni Schmidt.
Scope is concerned with views and critical debates surrounding issues of practice, theory, history and their relationships in the community, with New Zealand and its Pacific neighbours as a backdrop, but not its only stage. Scope: Contemporary Research Topics is peer-reviewed and published annually in November by Otago Polytechnic/Te Kura Matatini ki Otago, Dunedin, New Zealand.
All Scopes adhere to Publishing Ethics & Malpractice.
Series Editor
Professor Leoni Schmidt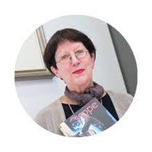 Professor Leoni Schmidt is the series editor for Scope: Contemporary Research Topics, her role is to ensure continuity of the series, their relevance to the publishers values and the oversight of publication policies. Professor Schmidt was the founding editor of our first Scope (Art & Design) and has been responsible for growing the family of Scopes beyond the original title. Professor Schmidt is an art historian and full professor in the Dunedin School of Art and director of research and postgraduate studies at Otago Polytechnic Ltd. She can be contacted at leoni.schmidt@op.ac.nz